Benefits you get by choosing SecurePayStubs

Generate Paystubs Instantly
Generate pay stubs for salaried and hourly employees in 3 simple steps! No complex process.

Free Paystub Templates
Our template library offers a variety of professional pay stub templates for employees, which you can use for free.

Accurate Tax Calculations
Our online paystub generator provides advanced tax calculation features that accurately calculates employees' Federal and State taxes.

Download or Email Paystubs
Once pay stubs are generated, you can download, print, or email them to your employees right away.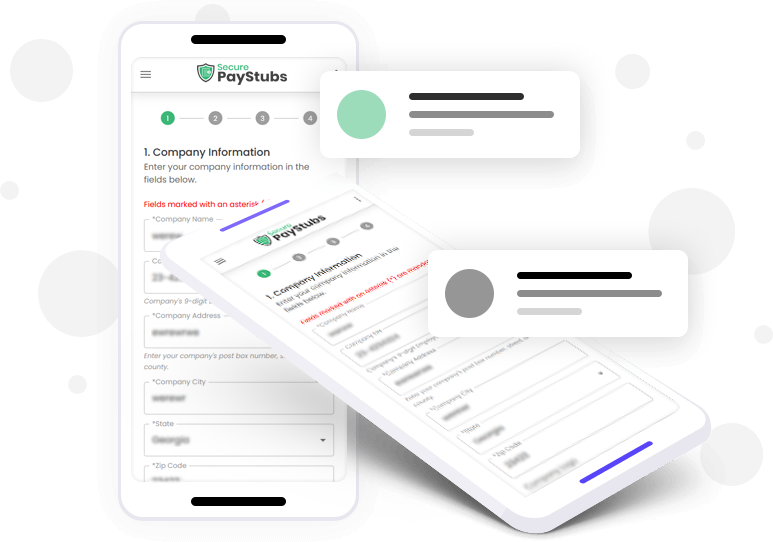 Here's how to generate pay stubs securely for employees with SecurePayStubs
Provide Basic Information

Provide company, employee, salary, and pay schedule information.

Preview the Pay Stub

Select a pay stub template for free that suits your business, preview the paystub, and make corrections if required. Preview Stub Samples

Download the Pay Stub

After generating the employee pay stub, you can print or download it. We also provide an option to email pay stubs directly to employees from the application.
Create Paystubs Now
---
Why Choose SecurePayStubs?
With SecurePayStubs as your online pay stub generator, you can create employee pay stubs on the go in just a few minutes. Our calculations are error-free, making the whole stub generation process in less than 5 minutes!
For just $5.99 per check stub, you can begin generating accurate paystubs for employees right away!
Create Paystubs with SecurePayStubs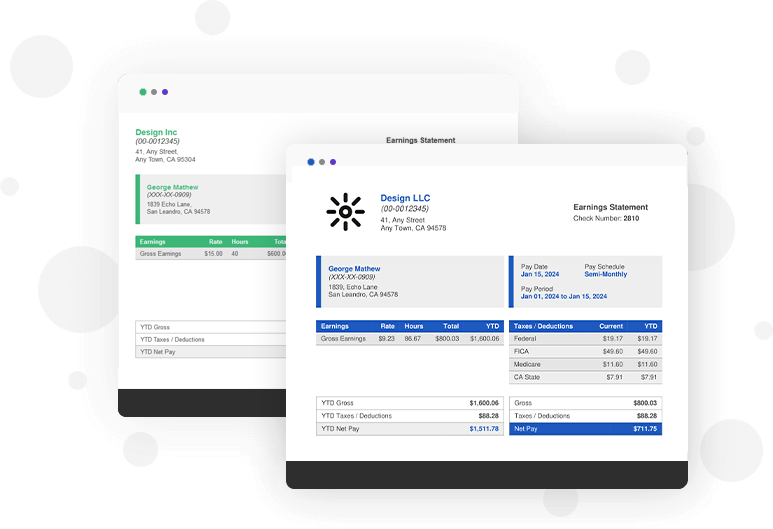 Ready to generate employee pay stubs?
Get started with SecurePayStubs, your go-to online pay stub generator, to accurately generate employee paystubs!
Frequently Asked Questions 
About Employee Paystubs
What details are included in an employee's pay stub?
An employee pay stub must contain the following details:
Company and employee information
However, the details provided in an employee pay stub may slightly differ based on the business sector and state employment laws.
How can I send the pay stub to my employees?
After generating pay stubs, you can either download and print them and issue it manually to your employees or email them right from the application without any hassles.
How long do employees have to keep their pay stubs?
As an employee, it is mandatory to keep pay stubs for at least a year or until Form W-2 or annual Social Security tax forms have been filed. Also, having a record of pay stubs comes handy while submitting a proof of income for a home or car loan as such.
Can employee pay stub be used as proof of income?
Absolutely! As employee pay stubs contain information on salary received and tax withholdings, they can be used as proof of income as well as employment.